Time Bandits
Time Bandits
is a new development in historical interpretation and living history/drama, from first person recounting to skirmishes and battle reenactments. Our approach is led by the needs and aspirations of the client, we advise and devise in terms of scripting, location and action. The uniqueness of our approach lies in the concept of working with the client or sponsor to tailor a presentation.
We're looking, for 2019 to broaden our WWII offer and set up a section devoted to Home Guard & Auxiliers, plenty opportunities for all ages and, of course, plenty of spies and saboteurs needed - contact us if you're interested.
A Testimonial To The Time Bandits
I really just want to say a huge thank you to John, Bill and Rosie for a fabulous day, you really brought Roman Britain to life.The children will remember it for many years to come I am sure and were very excited to tell their parents all they had learned at home time. A day spent with the Time Bandits is worth a week in front of a power-point or a computer. Mary Douglas All Saints School. Lanchester
This week we're at Harbottle School with reivers and then up to Ancrum for a reiver photoshoot on Friday, sadly we've had to defer the black powder/wild west day at Belsay Barns Shooting Ground planned for Sunday.
Fixtures list 2020/2021
23 September - Reivers at Harbottle School
25 September - photo-shoot at Ancrum
27 September – Wild West at Belsay Barns
30 September - D-Day podcast lecture
15 October – Berwick Literary Festival
17 October - Land of Oak & Iron
31 October – Vindolanda
23 – 25 November – Prehistory at Higham
December – Santa at Bamburgh/Vindolanda/Preston Hall
2021
04 January – Jacobites at Warkworth
18 – 19 January – Edinburgh
24 – 29 January – Holocaust Schools sessions, Newcastle Library
05 February – Relief of Belsen in Central Library
27 – 28 February – Edinburgh
27 – 28 March – Blyth Battery
18 – 20 April – Rough Wooing' at Higham Hall
23 – 24 May – Blyth Battery WWII
04 – 07 July – Monmouth tour
[ ] July – Marlborough Tour
10 July – Aln Valley Railway
17 July – RAF @ Stannington
[ ] August – WoR tour (south)
[ ] September – Jacobite Tour
[ ] October – William the Conqueror Tour
22 – 24 November – Crimean War at Higham Hall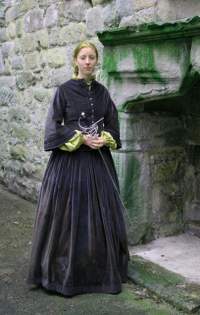 All of our members are police checked and are members of Equity with indemnity insurance of £5,000.000 each.
Time Bandits aims, as the slogan says, to bring history to life in a manner which is both informed and entertaining. We presently have a core group of around six dedicated members and this needs to grow. We'd be delighted to hear from anyone interested in re-enactment, drama, period crafts, historical interpretation. You don't need any kit initially, nor any experience, the use of most of your faculties, own teeth and a sense of humour would assist.