Time Bandits
Time Bandits
is a new development in historical interpretation and living history/drama, from first person recounting to skirmishes and battle re-enactments. Our approach is led by the needs and aspirations of the client, we advise and devise in terms of scripting, location and action. The uniqueness of our approach lies in the concept of working with the client or sponsor to tailor a presentation.
We're looking, for 2022 to broaden our WWII offer and set up a section devoted to Home Guard & Auxiliers, plenty opportunities for all ages and, of course, plenty of spies and saboteurs needed - contact us if you're interested.
A Testimonial To The Time Bandits
I really just want to say a huge thank you to John, Bill and Rosie for a fabulous day, you really brought Roman Britain to life. The children will remember it for many years to come I am sure and were very excited to tell their parents all they had learned at home time. A day spent with the Time Bandits is worth a week in front of a power-point or a computer. Mary Douglas All Saints School. Lanchester
Last week it was royalty in Edinburgh Castle and more feuding wardens at Caerlaverock. They're feuding again this week as well, then we're up the Great Glen to splendid Urquhart Castle mid week, next week.
Fixtures list 2022
05 – 06 August – Caerlaverock
09 – 10 August – Urquhart
12 – 14 August – Abbotsford
17 - 22 August – Wars of the Roses North Tour
27 August – Alston
01 September – Longhorsley WI, Border Wars
03 September – Alston
09 September – Geo Stephenson (eve)
10 September – Royal Armouries, Sahagun
10 September – West Denton Romans (eve)
13 September – Mills at Sunderland
15 September Swan at Sunderland
17 September BAAfest, Bellingham
24 September – Alston
24 September – Hexham
06 October – Northumbrian Jacobites at Jesmond Seniors
08 October – Romans Pendower
11 October North Tyne Youth at RTC (eve)
13 October – 'Get Carter' in Central Library.
17 October – Devil's Porridge
19 – 20 October – Craigmillar
22 – 23 October – Melrose
23 – 26 October – Hadrian's Wall Tour
29 October – storytelling in Harbottle
05 December – Morpeth LHS lecture
2023
13 March – Hotspur at Lowick
20 May 2023 – Home Guard at Solway Air Museum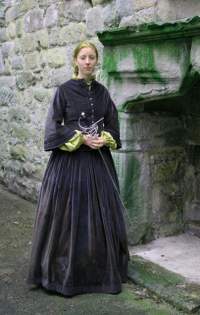 All of our members are police checked and are members of Equity with indemnity insurance of £5,000.000 each.
Time Bandits aims, as the slogan says, to bring history to life in a manner which is both informed and entertaining. We presently have a core group of around six dedicated members and this needs to grow. We'd be delighted to hear from anyone interested in re-enactment, drama, period crafts, historical interpretation. You don't need any kit initially, nor any experience, the use of most of your faculties, own teeth and a sense of humour would assist.