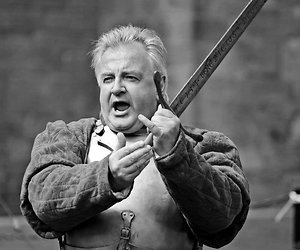 Douglas John Sadler
BA(Hons), M.Phil., FRHistS FSA (Scotl.)
My main specialism is in
military history. This is allied to my particular passion for living history/drama. Clearly, due to lockdown, there is no calendar of events such as I normally post weekly so I thought I would just offer a kind of blog/diary instead. So, here goes. At present I'm writing yet another book on the border, not so much a narrative as a personal journey after half a century of experience, travel, teaching and study. This will cover the whole of border history from prehistory/Romans to present, pulls together a variety of themes I've worked up and on over the years and recalls many conversations and discussions I've had with others. If anybody wants to contact me using my email or phone as shown on thei site feel free to do so and, meanwhile, I'll post weekly updates.



Rosie my co-author and I have finished our account of the fate of Cromwell's Scottish prisoners after the battle of Dunbar in 1650, England's 'Trail of Tears' which will be published later this summer.

My current fiction is now out. This is 'Blitzing Rommel', the first of a trilogy following local hero Joe Robson through North Africa, France and Germany, published by Endeavor Press. This is a review on Amazon:

'This is a stunning, amazing and altogether bone chilling account ..... based on fact ... of a rather ragtag special force of British secret military during WWII in North Africa.

This book has had a most sobering effect on my
perspective of war, the military, and governments both prior to and during wartime when we decide to send our young men and women to fight.

The story here of Joe Milburn, basically a farm boy from a country town in England, and his comrades throughout the early years of the war is no-holds-barred in its description of war on the ground where life is a veritable dice roll as an order by your commander is an order regardless of how lame or idiotic it may be.

It is powerful and hard to put down as the story of Joe, the teen, begins his military service as a private and ultimately ends up in a specialized force based in North Africa assigned to some of the most insane and brave missions I have ever seen, heard of read about and yet it happened.

This damn book should be a movie! It's a thrilling read. I'm even more astounded by the young ages of these heroes. Their courage and skill, most of the time with no official acknowledgement of their company by their own high command or government, while being asked to go on suicide missions is more than commendable.

The idea that a sweet romance could spark up in a military hospital is so well written it truly adds a realistic and very human touch to this story.

I received an advanced of this amazing book and I highly recommend it to readers of historical fiction'.


Has your conference, event, training session or performance been cancelled due to Covid19? You could consider holding your event in a virtual online room, theatre, Exhibition or Conference Hall. Events can cater for groups from 10-10,000 and can be free or pay per view. Speakers/trainers can deliver their content in safety and those taking part can see the performers/speakers without the need to travel or meet in large groups in a real world location.

Working with Hexhamtv we now have access to virtual online event spaces, classrooms, conference halls and theatres. If you are not sure if your event would work in a virtual space contact me and I can show you around the virtual campus and the various rooms and show you what is possible.

We don't know how long large event spaces will be closed for but they are likely to be the last to return to general public use particularly if there is a second lockdown. There is a need to do things differently in the 'new normal'. Virtual online events could part of the solution. If you want to find out more

Contact hello@hexhamtv.com


I'd like to introduce our new offer on local history/battlefield tours. I/we've a fair bit of form on these going back twenty years but this is what we're offering this season, prices per individual start at GBP 100.00 per person per day.

Following feedback from some tours this year, we have decided to introduce the concept of 'Activity Levels' to the list to provide guidance to clients as to the level of physical fitness required for each tour. This will replace the single threshold currently which we currently use: "All tours involve a fair amount of walking often over uneven cobbled streets, hillsides or steps. Participants on all tours should be able to walk and stand for at least 60 minutes without aid or requiring a rest…" as follows:

Activity Level 1: A gentle tour involving mainly visits to museums and well-laid out prepared battlefield stands within easy walking distance of coach stops.

Activity Level 2: Tours involving a fair amount of walking over rough ground and the odd climb to an elevated viewpoint (this would equate to our present T&Cs definition above).
Activity Level 3: More strenuous tours and our specific 'walking tours' involving walking of up to 6 miles per day (albeit in gentle stages with rest breaks).

Town and City Tours

All tours leave on foot from a central location, approximate duration is two hours. All guests should be capable of walking unaided for that duration and come suitably equipped with practical footwear and weatherproof clothing. Group size say five – twenty. These tours are activity level one/two.

Tour one: For King or Parliament, the Great Siege of Newcastle 1644

This tour takes the guests through the history of Newcastle and the civil Wars, from the causes of the war, through the Battle of Newburn, the Marquis of Newcastle, his Whitecoats and the war in the north, Marston Moor, the Siege and Storming of Newcastle, Sir John Marley's defence of the city, morphology of the city, civic life, war and weapons, domestic life, religion and the aftermath.

Stand one; Castle Keep
Stand two; Castle mound, the postern
Stand three; The hanging gardens & Copthorne hotel
Stand four; Hanover Street
Stand five; Casino
Stand six Cross Street
Stand seven; Stowell Street
Stand eight; Grey's Monument (Anderson Place)
Stand nine; Black Gate

Tour two: Blood, Snot and Bile

Newcastle's grim past, from medieval executions, the Border reivers, plague and pestilence, riots and civil commotion, witches and witch-finders, duel and many murders, crime and punishment, some hauntings, the Resurrectionists, Murder on the Alnmouth Train, the swinging sixties and sawn off shotguns.

Stand one; Central Library
Stand two; Bigg Market
Stand three; Castle & Black Gate
Stand four; Guildhall
Stand five; Quayside
Stand five; All Saints Church
Stand six; Holy Jesus
Stand seven; Mea House/Royal Arcade
Stand eight; Central Library

Tour three: A respectable Trade – Newcastle and slavery

Newcastle was never a slaving centre like Liverpool or Bristol but merchants and manufacturers in the city and region had close links to the abominable trade and Newcastle became a centre for radical opposition to slavery, a leading set of campaigners emerged who had a material effect on abolition. On the darker side a whole range of leading local mercantile and gentry families were closely linked to the slave trade and most of the shackles which bound the victims were manufactured on Tyneside.

Stand one; Central Library
Stand two; Pilgrim Street
Stand three; Grey's Monument
Stand four; Dean Street
Stand five; Sandhill
Stand six; Quayside
Stand seven; Lit & Phil

Tour four: Votes for Women; Newcastle and the Suffragettes

The suffragette movement in the north-east, Emily Wilding Davison and other notable local figures, [more]

Stand one; St. Nicholas
Stand two; Nun Street
Stand three; Clayton Street
Stand four; Leazes Park Road
Stand five; Blackett Street
Stand six; Fenwicks
Stand seven; Central Station

Tour five: Get Carter

The book and the film, a tour around the locations used in the movie with scenes enacted at each stand, stand by for an explosive finale....goodbye Eric!

Stand one; County Hotel/Long bar
Stand two; Oxford Galleries
Stand three; Bowers Cafe, Pink Lane
Stand four; High Level Bridge
Stand five; Long Stairs
Stand six; Quayside
Stand seven; Castle Garth

Tour six: Famous and Infamous Personalities of Newcastle's History

See Newcastle through the eyes of those who left their mark on the city throughout the centuries. Meet Sir John Marley, Richard Grainger, Lord Armstrong and other famous, but also some more dubious characters from the past.

Stand one; Monument
Stand two; Grainger Market
Stand three; Bigg Market
Stand four; Castle Keep
Stand five; Long Stairs
Stand six; Quayside

County Tours

All tours leave by MPV/minibus from a designated location say at 08.00 hours and return there at no later than 17.00 hours. Guests need to have stout footwear, weatherproof clothing and a packed lunch. These tours are activity level two/three. Guests may be asked to sign a health disclaimer. The cost of the tour does not include entry fees into museums or historic sites. Where a group is six or less transport is by MPV, where it is greater by minibus, maximum number of clients = twenty.

Tour one: Golden Age of Northumbria – fury of the Norsemen

This tour looks at the heroic and Golden Ages of the Kingdom of Northumbria, from the founding of the Anglian state at Bamburgh to the destruction of Lindisfarne by the Vikings, the age of Edwin and Oswald, of Aidan and Cuthbert, of Biscop and Bede. We look at the raid on Lindisfarne and the coming of the Norsemen, the Viking kingdom to the Norman Conquest.

08.00; Leave Newcastle
09.00; Arrive at Lindisfarne – (the order here depends upon safe crossing times thus subject to some variations), walking tour begins
10.00; Walking tour of Holy Island continues, (church, priory & harbour) followed by coffee break – entry fees payable
11.00; Leave Holy Island
12.00; Arrive at Cuthbert's Cave, walk to site, tour and then lunch
13.30; Leave for Bamburgh
14.00; Arrive Bamburgh and begin castle and Anglo-Saxon tour
15.00; Tour continues
16.00; Leave Bamburgh
17.00; Return to Newcastle

Tour two: The Steel Bonnets

We investigate the Three Hundred years War between England and Scotland, the era of the Border Reivers or Steel Bonnets, at border battles, blood feud and vendettas, the border wardens, how the reivers rode and fought, domestic life and women's roles, the brave can take part in their own blood feud....

08.00; Leave Newcastle
09.00; Arrive at Otterburn battlefield
10.00; Evistones Reiver Township, followed by coffee
11.30; Leave Otterburn area
12.00; Arrive at Black Middings
13.00; Lunch (outside or under cover depending on weather)
14.00; Leave Tynedale for Flodden battlefield
14.30; Reach Flodden field and walking tour
16.00; Leave Flodden
17.00; Return to Newcastle
Tour three: Defending the coast – the Real Dad's Army

In 1940, Britain stood at bay. Actor Anthony Quayle was one of those tasked to create a different kind of Dad's Army, the Home Guard Auxiliers. This was Dad's Army with a difference, last ditch stay behind saboteurs whose job was to make the occupiers' lives a living hell. Life expectancy was short, the cost very high. Nowhere in the UK were the Auxilier units better prepared than in Northumberland.

08.00; Leave Newcastle
09.00; Arrive at Druridge Bay – tour of HG defences and camouflaged bunker
10.00; Leave Druridge Bay for Blyth Battery, (arrive sat 10.20) tour and coffee (no entry fee but donations appreciated)
11.30; Leave Blyth Battery
12.00; Arrive Longhorsley Auxilier bunker and tour, (no entry to remains tho' close access)
12.30; Leave Longhorsley for Craster
13.00; Lunch at Craster
14.00; Tour of WWII defences, Craster
15.00; Drive to gun emplacements, Scremerston
15.30; Arrive at Scremerston
16.00; Leave Scremerston
17.00; Return to Newcastle


Contact details are via website, email; john.sadler@islmail.co.uk or 'phone on 01661 881654 or 07722453 875.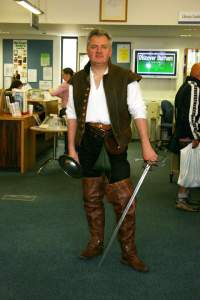 I have been a visiting lecturer at the
University of Sunderland Centre For Lifelong Learning
since 1998 and have delivered a range of courses, primarily on
military history
.
These have included:
'The Vikings'

'The Crusades'

'The Hundred Years War'

'The Wars of the Roses'

'The Border Reivers'

'The Jacobites'

'The American Civil War'

'World War One - the Western Front'

'World War One - The Eastern Front

'The Road to Dunkirk'

'Barbarossa'

'D-Day to Berlin'

'Swordplay - the Sword in History'

'Terrorism post 1945'

'Arab Israeli Wars 1948 - 2006'

'The English Civil Wars

'The War in Afghanistan'

'The Second Gulf War'

I also supervise mature students at degree level.

My primary occupation is writing with some two dozen non fiction titles in print. I tend to undertake commissioned work only and, at the end of last year, I was engaged by the Army Benevolent Fund to write a history of the Field Gun Race for the revived Royal Tournament.

For a considerable number of years I have given public lectures to local history groups, community associations, at the Durham Light Infantry Museum, The National Army Museum, The Society of Antiquaries of Newcastle upon Tyne, and to Rotary and Round Table clubs. I am available for public and after dinner speaking, the cost ranges from £100 - £500 depending on circumstances. Any talks to charitable or voluntary sector groups are delivered free of charge.

I am an experienced battlefield tour guide and have taken a range of school, adult, services and veterans groups on tours of the main Western Front Battlefields. I have also taken student groups around most of the major UK battle sites. I have full CRB clearance. I have worked, in this capacity extensively for Tyne and Wear Museums and English Heritage.

For some years, starting back in the 1970's, I have been engaged as a project manager/curator and fundraiser for heritage based projects, most recently the Heritage Centre, Bellingham, the Royal Fleet Auxiliary Association and the Durham Light Infantry Museum.

From time to time I have been involved in film work, True North Productions filming of 'The Tale of the Long Pack' near Wark in North Tynedale, together with the 'Clans' series for Mentorn & BBC Scotland (series two and three), 'Buildings that Shaped England' for Channel 4, local BBC & ITV and recently as historical consultant for Arpeggio Films 'Siege & Storm'.

I hope, in the course of this year, to be able to start working toward the award of a PhD under the aegis of the University of Sunderland, my topic 'Dunkirk to Belsen - the DLI at War 1939 - 1945'.

My approach to military history, in terms of writing, is based firstly, upon acquiring a thorough knowledge of the primary sources, supplemented by the insight gained from walking the ground. I am of the opinion that there can be no full understanding of events unless there we have knowledge of the ground. We are fortunate in Britain that, the pace of development notwithstanding, many of our battle sites, if not untouched, are still recognisable and this obtains particularly in the northern region and the borders. Equally and with only a few exceptions we do very little to commemorate many of our historic battles.